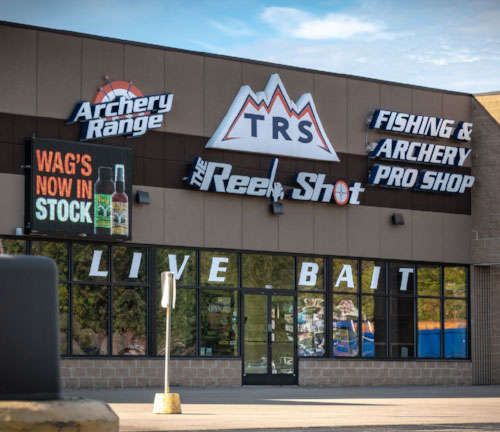 TRS is committed to providing our customers with the highest level of customer service possible. We strive to serve all of your archery and fishing needs with guaranteed lowest prices and a wide selection of products. Below you will find some of our frequently asked questions as well as some of our policies. Take a second to read through these and if you have any questions, please email us at info@thereelshot.com or give us a call at 1.920.750.6140.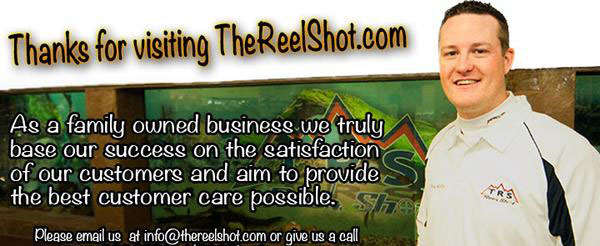 Frequently Asked Questions
What can I order? You can order anything shown in our online store. If you are interested in an item that is not found on our website, please email info@thereelshot.com and we will gladly look into getting it for you.
Can I redeem gift cards online? Unfortunately our current system is not able to redeem gift cards you purchase in store for online orders. We do sell gift cards online that only work for online purchases, however. Sorry for any inconvenience this may cause.
How can I pay? We accept Master Card, Visa, Discover, American Express, or PayPal.
How long will it take to receive my order? All in-stock orders received before 10am CST will be shipped SAME DAY via FedEx or USPS. Please see our shipping page for more information on delivery times.
What happens if I don't receive my package? All of our shipments are covered by insurance that guarantees TRS will replace packages that are lost or damaged during transit.
Note: TRS will not be responsible for lost or stolen shipments to a non-current address. If we are not notified of an address change before the shipment of your order, refunds or replacements for a lost or stolen package will not be accepted.
What if something doesn't fit or I change my mind? You are welcome to return or exchange any items purchased from TRS. All products must be returned in the same condition they were received and in the original packaging. TRS will refund the product cost only - any shipping fees and taxes incurred will be your responsibility. For all clothing shipments, TRS will cover the first reshipment of an order due to size exchange. You will be responsible for for any return shipping costs or additional exchanges after the first return shipment from The Reel Shot.
Are back order arrival dates guaranteed? Back order arrival dates are not guaranteed, as they are provided by the manufacturer and are subject to change with out notice.
How do we ship back ordered items? Back ordered items will be shipped using the same method as your original order. If you would like your back ordered items to be sent out using an alternative shipping method, please contact us at 1.920.750.6140 or info@thereelshot.com and you will be charged for the cost of shipping. Back ordered items, if not sent out the same day, will go out the following day. Travel time will depend on your location within the continental US.
Will I have to pay any taxes or import duties? There are no U.S. taxes for international customers; however, you will be responsible for any additional customs handling fees, duties and/or taxes. Because each country is different, and these fees change often, we are unable to tell you how much these fees will be but your local post/customs office can give you this information. Wisconsin customers purchases online will incur a tax expense set by the State of Wisconsin and well as the county the order was purchased in.
Guaranteed Lowest Prices


Simply put, if you find a lower price, on any product we stock, we would like the opportunity to beat it. We owe our success to you, our customers, and we know that price is a critical concern. Our goal is to eliminate this concern by assuring you that by choosing TRS, you're getting the lowest prices anywhere. We routinely scan our competitors to assure that our prices can't be beat. As should be expected, there are some common sense boundaries that apply. We must be able to verify the lower price. Lower prices that cannot be confirmed will not be honored. We reserve the right to confirm lower prices before any final TRS sale. The source of a lower price must come from an authorized dealer within the United States of the product in question. If the price does not come from an authorized source, current TRS prices stand.
Defective Products


TRS wants you to be completely satisfied with everything that we offer. If a product is deemed defective either from the manufacturer or TRS, the product should be shipped back to TRS where we will examine it and do one of the following: Consider it defective through TRS standards, and immediately ship your replacement or refund your money OR Contact the manufacturer to see if they cover the defective merchandise and contact you with the information we have received.
Returns and Exchanges


TRS always wants you to get what you want, but in the event that you would like to exchange or return an item please download our
Return Form
. If you have a question that your invoice does not address, give us a call and we will give you the return information specific to the product you are returning.
After you have contacted us about your return a member from our team will contact you within 24 business hours. At this point we can determine if your return is eligible for a refund or item exchange. The Reel Shot is not responsible for lost, stolen or damaged items after you have received them.


Please send all returns or exchanges to: The Reel Shot Attn: Returns Dept. 1919B E. Calumet St. Appleton, WI 54915