Ravin R9 vs Tenpoint NXT Shadow Crossbow
0 comments

Ravin R9 Vs. Tenpoint Shadow NXT Crossbow
When you are in the market for a new crossbow, the options can seem endless. However, if you are looking for 2018's top models we recommend checking out the Ravin R9 Vs. Tenpoint Shadow NXT Crossbow. When it comes to top crossbow brands, new-comer Ravin and the established TenPoint name are definitely two brands that need to be on everyone's short list. To get a better idea of how the Ravin R9 stacks up against the 2018 TenPoint Shadow NXT we are comparing the two side-by-side to give everyone a better idea.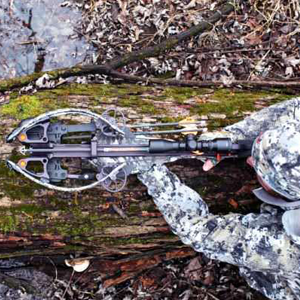 The Ravin R9 is the only crossbow on the market that can be manually decocked unlike the Shadow NXT that requires a discharge bolt, or that need to be shot into a target to unload. The Ravin R9 provides impressive speed, accuracy, and power to make it one of the most versatile crossbows on the market, perfect for any hunting situation. The R9 offers hunters a lot of value with a new price point dropped from $1499 now available for $1299.
Shop Ravin R9
The
Ravin R9 crossbow
is one of the sleekest crossbows on the market, with its narrow design that is just six inches axle-to-axle when cocked, and it's impressive speed of 390 ft. per second, making this one of the most head turning crossbows on the market.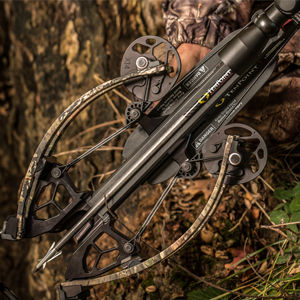 The Tenpoint Shadow NXT measures at 6.5 inches wide with a speed of 380 ft. per second. The Shadow NXT is equipped with a dual-purpose rubber safety wings to reduce noise and vibration. If you do not need a crank to cock your crossbow, Tenpoint does a great job offering many other cocking options such as their ACUdraw, ACUdraw 50 SLED, or rope sled options. Unlike the Ravin, the Tenpoint cannot be manually decocked. Without additional cocking aids, the TenPoint Shadow NXT comes in at a price point of just $1099.
Shop TenPoint
Both the Shadow NXT and Ravin R9 are great choices for hunters looking for a compact crossbow that will drive tacks and last for years to come. In terms of performance, both crossbows are very similar on paper with the Ravin R9 pulling slightly ahead in a few categories such as speed, kinetic energy and axle-to-axle width. If cocking and uncocking is a huge deal breaker for you, the Ravin R9 holds a clear advantage with its ability to decock a bolt without firing the crossbow or having any extra equipment in the field with you. Both crossbow models come as package options right from the manufacturer and are equipped with high quality components. Something worth noting is that the Ravin R9 is equipped with three additional bolts compared to the TenPoint model.
View More Crossbows
| Ravin R9 | VS | TenPoint Shadow NXT |
| --- | --- | --- |
| 390 FPS | SPEED | 380 FPS |
| 13" | Power Stroke | 12.2" |
| 135 FT. LBS. | Kinetic Energy | 119 FT. LBS. |
| 6"Cocked/10.5"Uncocked | Axle-to-Axle | 6.5"Cocked/11.3"Uncocked |
| 34.5" | Length | 32.2" |
| 6.9 LBS | Total Weight | 7 LBS |