Fox River DePere WI Walleye Fishing Tactics
0 comments

Fox River DePere Walleye Fishing Tactics!
As winter begins to lose its icy grip our rivers begin to flow triggering an annual migration. Thousands of walleyes funnel into the Fox River from Green Bay to stage and eventually spawn when water temperatures reach between 44 and 48 degrees. Anglers from all over the Midwest are itching to make an annual run to DePere, WI in hopes of boating a walleye of a lifetime. Most experienced anglers will tell you this is your opportunity to catch the greatest numbers and perhaps the largest walleye of your life as there are so many fish in such a concentrated area.

Even though there are a lot of tactics that will produce this time of year in DePere on the Fox, we have compiled a few tips that might just turn a good day, into a great day. Here's what you need to know: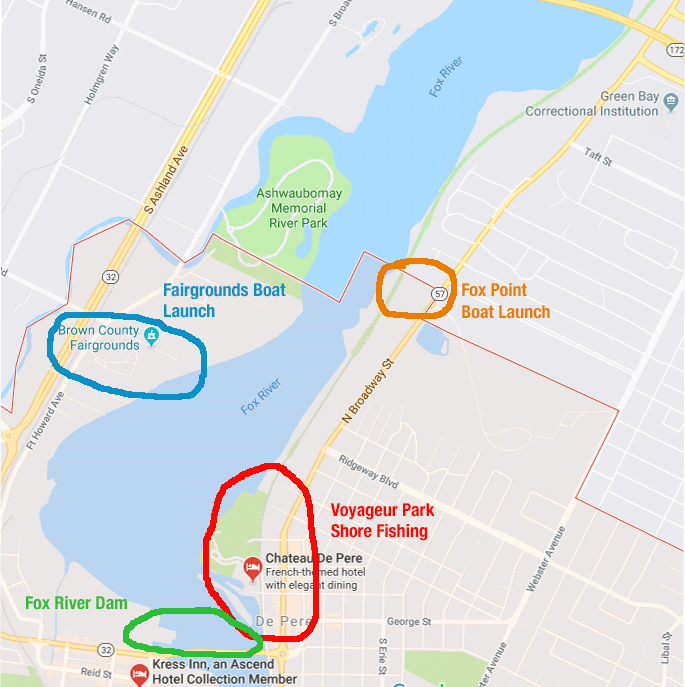 Fox Point (Boat Launch)
Brown County Fairgrounds (Boat Launch)
Green Bay Metro (Boat Launch)
Voyageur Park (Shore Access)
There are three main boat launches anglers use to access this walleye madness and you can expect to pay a small fee of about $5.00 to get right into the action. The main boat launches are Fox Point Boat Launch, Brown County Fairgrounds and Green Bay Metro. If you do not have a boat, the main shore access is from Voyageur Park located on the east side of the river.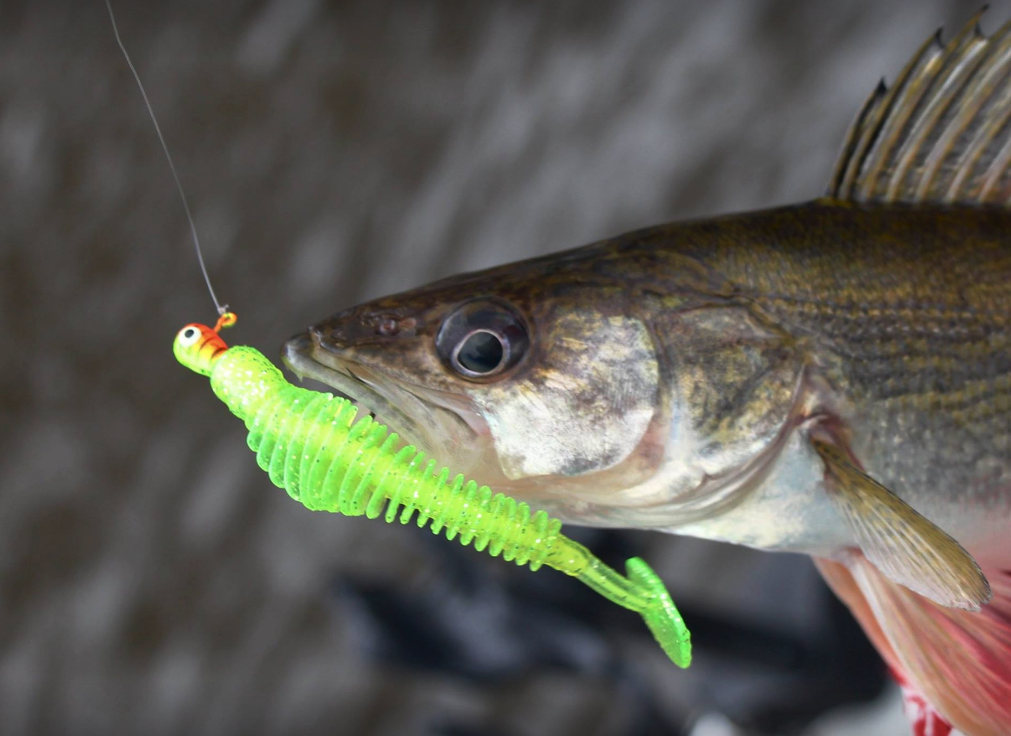 The stretch from the dam down to the first bridge is the most common place to target these hungry fish. The Fox River water depth ranges from inches off of shore to over 20 feet in the middle of the channel, so start shallow in the mornings and evenings and work toward deeper water as the sun rises. Walleyes stack up in the river channel waiting for the temperature to rise before they push up into the rushing waters of the dam to spawn and eventually return to the bay. Vertical jigging this stretch of water can produce huge numbers of fish.
VMC Hammerhead jigs
and FinTech Nuckle Ball jigs tipped with a minnow or a variety of species-specific plastics usually does the trick.
B fish N
AuthentX Pulse R paddles and ringworms are two of the most popular and for good reason…walleyes love em! Since the Fox River isn't known for water clarity, bright colors such as chartreuse, neon orange, and green are great starting options.
By no means is the Fox River in DePere during the spring a secret, so expect a lot of company and know where your lines are all times to avoid tangles with other anglers. Because of the high number of anglers this time of the year, vertical jigging is also a great choice because it's less intrusive of a technique for targeting these pressured fish.
If you find yourself without a boat, the shore fishing this time of the year can be just as good, if not better at times off of Voyageur Park located on the east shore of the river. The unique structure of the river allows for both casting a jig and retrieving a crankbait to produce great numbers of fish. Great crankbait options include Rapala Husky Jerks size 8 through 12 and
Smithwick Suspending Rattlin' Rogues.
As temps creep into the low 40's fish begin to react to more aggressive techniques. An aggressive lift fall presentation with Rapala Rippin' raps, Hutch's Tackle blade baits and B-Fish-N Blade baits can really improve your success during this warming period. When working blade baits and lipless crankbaits, having the right fishing line can really up your odds of more hook-ups. A bright, or easily visible braided line like Sufix 832 works great. Many times fishing with strike on the fall of the bait so being able to identify a negative bite when it happens will decrease the fish's odds of spitting the hook!